Luce Northstar
illustrator and comic artist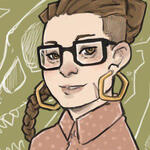 Hello, I'm Luce!
I'm a comic artist and illustrator from Italy, specialized in fantasy and erotic art!
Author of Berserkr for DZ Comics and Reckless&Proud for Filthy Figments.
---
COMICS
---
COVER ART
---
ILLUSTRATION
---
Luce Northstar
*COMMISSION STATUS: OPEN
Available both for private commissions and commercial work.
For commission inquiries, DM me on twitter or email me at [email protected]
TERM OF SERVICE
Payment is required in advance, made in USD or Euro, via Paypal. Half-half payment may be agreed upon for bigger commissions.

Character references are needed, but it's enough for it to be an actor photo and pinterest moodboard, or picrew images. A little extra may apply in case of extensive design work required on my part.

I will provide updates during the whole process (sketch, inks, flats, shadows), no further changes can be requested after the flats are approved.

Turn around time is usually from one week to one month, depending on how complex the commission is and my existing queue.

You have the right to use your commission for any personal use and to post it anywhere online, as long as credits are given. You may NOT use the artwork for NFT in any occasion, nor commercial purposes unless otherwise agreed upon.

I retain all rights to my work, including the right to post it online for self promotion.

I have the right to decline a commission for whatever reason.
WHAT I WILL DRAW:
• OCs, fanarts, portraits
• animals, furry, aliens, fantastical creatures, mecha, armor
• gore, NSFW and kinks (to be discussed first)WHAT I WON'T DRAW:
• minors involved in sexual situations
• real people involved in sexual situations
• incest, noncon, bestiality
• art that promotes hate towards a person or group of people (racism, homophobia, transphobia, etc.) or that promotes hateful political views (fascism, nazism, etc.)
---
© Tessier-Ashpool S.A. All rights reserved.